Sweet As Honey, Cute As A Kitten: Kitty Honey Cosplay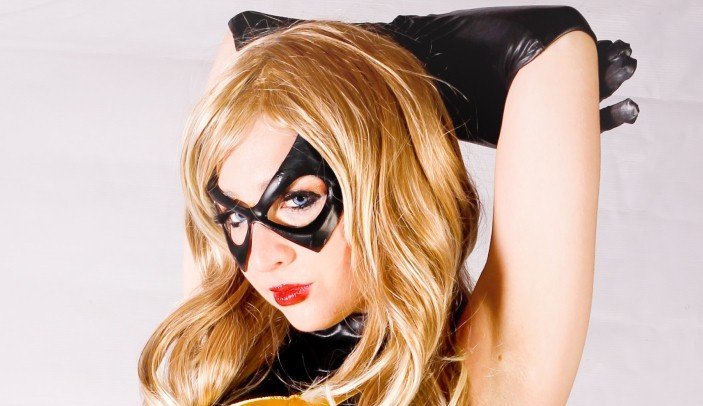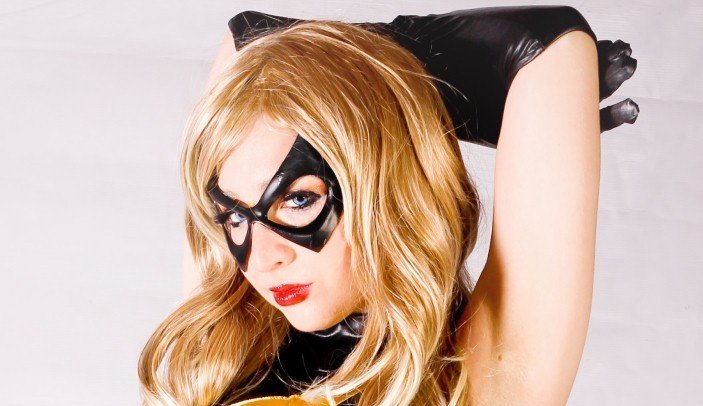 HOMETOWN: Corrientes, Argentina
RESIDENCE: Corrientes, Argentina
HOBBIES: Reading, listening to music, cosplay
ZODIAC SIGN: Pisces
CF. How did you get into cosplay, who did you portray first, and why?
Was about 4 years ago, my first cosplay was Sakura Kasugano from Street Fighter, was a character that looks like me, and was easy to portray as first cosplay.
CF. What's the best part of cosplay?
Having fun, sharing the love for cosplay with your mates and portraying your favorite characters.
CF. If you could be any super hero or villain who would you be and why?
I like psychics, so, I'll choose Emma Frost or Jean Grey. My favorite super power has always been psychic powers.
CF. If you could meet anyone in the world dead or alive who would it be and what would you say to them?
I'd like to meet John Lennon, and I'd probably ask to him, that he fought for peace, what does he think on the world, on what it has become.
CF. What's your favorite sci-fi movie and what captivates about the plot?
Paprika from Satoshi Kon, I like that the plot goes around the boundaries between reality and dreams. In fact, is my favorite movie of all time.
CF. What's the craziest thing a fan sent you or requested?
Once some guy sent a message asking me for a photo with an egg on my mouth… that was pretty weird.
CF. What sidekick would you hire to be your personal assistant and why?
Maybe Scarlet Witch, because she can handle probability and alter reality
CF. What character intimidates the heck out of you, why, and when will you attempt take the challenge to portray them?
I prefer to reserve my dream cosplays, now I'm working on make them a reality little by little.
CF. Do you know a lot about the series you cosplay?
Yes, I don't like to cosplay characters that I don't know or I don't like or even that I don't feel related in some way.
CF. What's your favorite comic con to attend and what makes it so special?
I attend mainly local cons, I don't have any fav one in particular
CF. What comic con's are definitely attending this year?
Mainly local cons and the ones that invite me as a guest outside my area
CF. What's one thing you wish fans wouldn't do?
They are pretty respectful, so I can't complain
CF. Who was your favorite character to portray and what rocked about it?
Every character has a special meaning for me, Ms. Marvel and Sakura are my favs for what they meant in my evolution as a cosplayer.
CF. How do you keep cosplay fun?
Doing what I want, I don't take part in cosplay competitions or contests, and I mainly try to avoid drama and haters
CF. Where can new fans go to follow you?
FB Page: http://www.facebook.com/KittyHoneyCosplay
World Cosplay: http://worldcosplay.net/member/Kitty-Honey/
Cure: http://en.curecos.com/profile/?ch=321786
Deviantart: http://kitty-honey.deviantart.com/
Twitter: https://twitter.com/KittyHoneyCos
Instagram: http://instagram.com/kittyhoneycosplay
CF. Other than this interview, what's the craziest thing you agreed to do?
My life is pretty boring, I guess :p
CF. In your opinion what's the meaning of life?
Tough one, ask Monthy Python xD. Talking seriously, we have to find the meaning of our own lives, I think it doesn't have ONE meaning, the meaning can be different for every one of us. For some people can be having a family, for others it can be becoming a rockstar and neither of them are right or wrong. The important thing is if that your life was worthy to live.