Valley of the Sun Cosplay, Kristen Lanae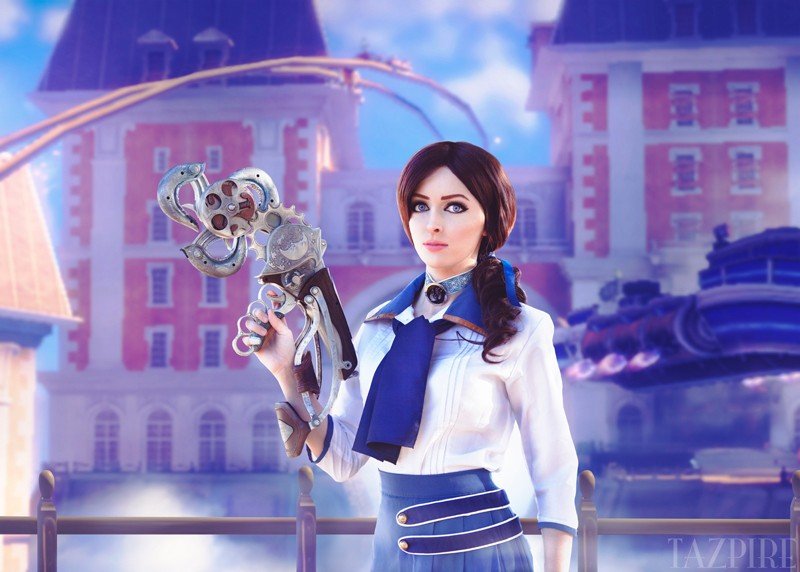 HOMETOWN: Tulsa, Oklahoma
RESIDENCE: Phoenix, Arizona
SCHOOL: Arizona State University
HOBBIES: Photography, video games, cosplay, cross-stitching, watching movies.
ZODIAC SIGN: Aries
CF: How did you get into cosplay, who did you portray first, and why? 
KL: I got into cosplay almost immediately after I attended my first convention, Phoenix Comic Con, in the summer of 2012. Seeing the amount of work and detail people put into their costumes and how much fun they had wearing them inspired me to cosplay. My first cosplay was Tomb Raider (inspired by the 2013 game version) because that was what I was playing at the time. I loved how strong and beautiful the new Lara Croft was and knew I had to cosplay her. I'm actually currently working on revamping this costume and making it better!
CF: What's the best part of cosplay?  
KL: I honestly love the entire process. The most rewarding part though is probably when I finally get to wear my finished costume to a convention. Seeing the excitement on people's face when they see your costume (especially kids!) and having people want to take photos with you is the best feeling in the world. It makes you feel so proud and all the blood, sweat, and tears that you put into that cosplay become so worth it!
CF: If you could be any super hero or villain who would you be and why? 
Being a super hero is so much work and seems like it would get old fast! I would want to be a villain.. probably the Joker. He's completely insane, yet incredibly intelligent and hilarious.. in his own twisted way.
CF: If you could meet anyone in the world dead or alive who would it be and what would you say to them? 
KL: Lana Del Rey. She's been the biggest inspiration to me since I discovered her music a few years ago. When I say inspired I mean in every way.. my outlook on things, fashion, and my photography/art. If I met her I'd probably go completely quiet and star struck at first, but then I'd love to tell her how much her music has touched me.
CF: What's your favorite sci-fi movie and what captivates you about the plot? 
This is literally the most difficult questions.. how could anyone choose one favorite?! Instead, I'll choose my most recent favorite, Guardians of the Galaxy! Best film I've seen in recent years. It's got the perfect cast, it doesn't take itself too seriously and is a fun movie, oh.. and it also has the most badass soundtrack ever. I've had it on repeat for weeks!
CF: What's the craziest thing a fan sent you or requested? 
KL: A lot of fans request lipstick/kiss prints on my cosplay prints that they buy. I know a lot of other cosplayers think it's creepy and won't do it but honestly I don't mind. I think it's cute to sign prints with kiss prints.
CF: What sidekick would you hire to be your personal assistant and why? 
When I read this question I immediately thought of Claptrap from Borderlands for some reason, haha! He's so cute and funny.. I love that little guy.
CF: What character intimidates the heck out of you, why, and when will you attempt take the challenge to portray them?  
KL: Anya Stroud from the Gears of War game series is my dream project that I'm WAY too intimidated to start. She has tons of heavy armor and I've never made armor before so I keep putting the project off. I'm a bit of a perfectionist so I won't start a costume until I research, practice, and feel comfortable enough with what I'm making first. I'll hopefully start this costume next year.
CF: Do you know a lot about the series you cosplay?
KL: Yes! I personally do not like to cosplay any characters I'm not familiar with. Cosplay for me is all about showing my love and dedication for a character and its series, so the character has to be important to me. I wouldn't feel confident or comfortable ever dressing as a character I didn't know.
CF: What's your favorite comic con to attend and what makes it so special? 
KL: I'm still pretty new to the cosplay world and haven't had the chance to go to too many conventions but so far I love going to Albuquerque, NM's cons. I've made a lot of friends there and everyone at the conventions there are always so sweet and nice to me. It's just a really great atmosphere and I always look forward to going back.
CF: What comic con's are you definitely attending this year? 
KL: Well this con year is pretty much over.. but I hope next year is bigger and better for me. I'm never sure what cons I'll be at for sure except Phoenix Comic Con. I hope to finally get to go to my two dream cons, SDCC and NYCC!
CF: What's one thing you wish fans wouldn't do? 
KL: I do wish fans at conventions wouldn't sneak and take photos of me in costume when I don't know it or when I'm on break eating. I'm very nice and would never turn down a photo, so just ask! 🙂 Also, no cosplayer wants unflattering photos taken and posted of them! It's just respectful to ask.
CF: Who was your favorite character to portray and what rocked about it?
KL: So far, my favorite character to portray has been Harley Quinn. Most characters I cosplay are good hearted, strong females. Harley Quinn is the complete opposite. She's insane, ditzy, and a total bad girl. It's actually super fun to step into the role of a villain and just be silly. I understand why so many girls cosplay Harley Quinn now that I finally made and wore this costume.
CF: How do you keep cosplay fun?  
KL: It's easy to fall into a mindset of thinking you have to keep pumping out costumes to entertain and keep fans happy. The key to keeping cosplay fun is making costumes that you want, when you want.
CF: Where can new fans go to follow you? 
http://www.facebook.com/kristenlanaecosplay
http://www.twitter.com/kristenlanae
http://www.instagram.com/klanaephoto
CF: Other than this interview, what's the craziest thing you agreed to do?
KL: I'll just leave this as a no comment. 😛
CF: In your opinion what's the meaning of life?
KL: To have fun and be happy. Simple as that!