Holly Gloha: Addicted To Cosplay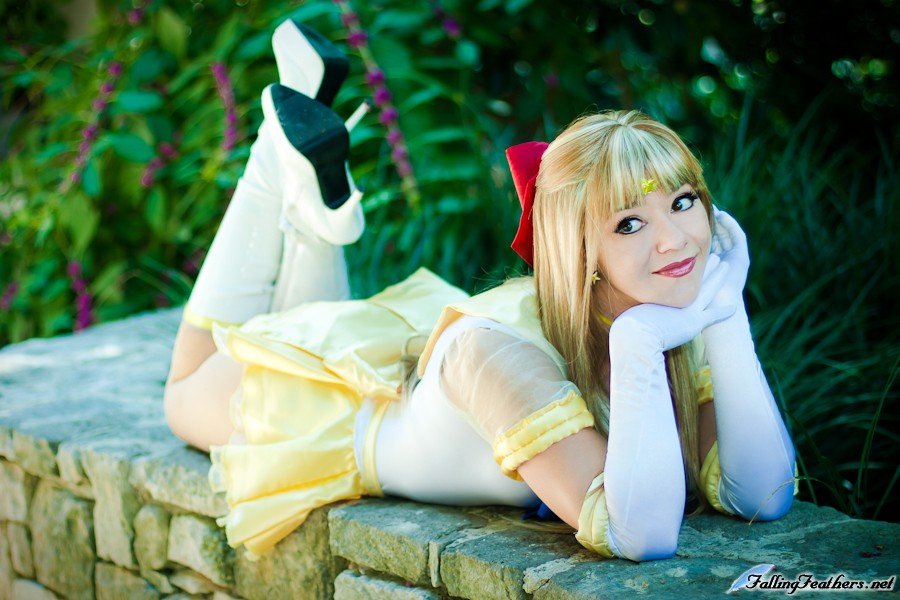 HOMETOWN: Austin, Texas
RESIDENCE: Houston, Texas
HOBBIES: Sewing, Martial Arts, Dance, Reading and Expanding my Fabulosity
ZODIAC SIGN: Taurus!
CF. How did you get into cosplay, who did you portray first, and why? 
I actually discovered cosplay because of an Austin based group of Sailor Moon cosplayers!  Before I knew what cosplay was, I made a costume of Sailor Saturn based off of the Sailor Moon Musical.  (Sailor Saturn, Sailor Neptune and Sailor Venus are my absolute favorite Scouts~they're all so fabulous!)  Somehow this group found my pictures, looked past all my amateur mistakes and invited me to join them at Ikkicon!  After I attended that con, I fell madly in love with Cosplay and the Community that came with it and knew that it was a world I wanted to be a part of.
CF. What's the best part of cosplay?  
There's too much to name~The ability to create and explore your artistic talents when you make a costume, wearing the costume and meeting fans of the series or fans of cosplay, the thrill of being on stage, the opportunity to meet so many new friends….I can't whittle it down!  I can say that I am EASILY addicted to it, though.
CF. If you could be any super hero or villain who would you be and why?
I'd definitely be a Star Sapphire~with a costume of my own design.  (I kinda sorta designed one not too long ago :3 )  The Power Rings in the DC universe always fascinated me and when the Emotion Spectrum opened up it was the Star Sapphires that were my favorites.  Plus, my friends blatently told me that I lack willpower around chocolates and could never make it as a Green Lantern.  :p  With a Violet Power Ring, I could fly, manipulate forces, open wormholes and help those in pain find their soulmates.  Sounds like an absolute Win to me!
CF. If you could meet anyone in the world dead or alive who would it be and what would you say to them? 
I know it's probably cliche (and definitely doesn't fall in the Nerd Realm), but I would love to meet Audrey Hepburn.  She was always so poised, so elegant, and apparently had a wicked sense of humor when she was with her friends.  When you consider what she had to go through, growing up and watching her world fall apart because Nazis were invading…you can help but admire her strength and her ascent into stardom~all while retaining a kind heart and soul.  However..I don't know if I could actually speak if I ever met her, she was probably one of the very few that could have left me starstruck into speechlessness.
CF. What's your favorite sci-fi movie and what captivates about the plot?
Firefly is the one that resonated the most with me.  I absolutely loved Malcolm Reynolds character and the world that Joss Whedon created.  I even read the comic books created after the show and movie.  Like everyone else~I jumped on the bandwagon too late and instead of watching a strong, promising world blossom and grow I watched instead as bad network planning and corporate indifference let it die.  The human element in any Sci-Fi storyline is what interests me~no matter what type of technology we surround ourselves with, it's the emotional investments the characters have in each other and their perspectives on the situations they're in that stand out to me.  Especially if there is a character or two that make the same choices that I would, should I ever see myself in a similar situation.
CF. What's the craziest thing a fan sent you or requested? 
Thankfully nothing too crazy!  I had a sweetie or two send me pictures and chocolates which was kindhearted! Some even surprised me with fan art that they had drawn!  I'm sincerely surprised and honored that there are people out there that appreciate my craft enough to consider doing acts of kindness to me.  It adds to the awesomeness of the Community.
CF. What sidekick would you hire to be your personal assistant and why?
For some odd reason…Tinkerbell popped into mind, but that would be horrible!  I need someone who would keep me focused, not encourage me into mischeif or aid in my own distractions.  Unless she gave me some gorgeous fairy wings, then in that case she'd be hired.  Other than Tinkerbell, I'd probably want Kim Possible~she can do anything, and since both her and I have dance/cheerleading and martial arts training we'd be unstoppable!
CF. What character intimidates the heck out of you, why, and when will you attempt take the challenge to portray them?  
Bayonetta!  Hands down.  The first video game version of her costume is so intricate, so detailed with all that embossing, the different types of fabrics,the rose details, and even the wig work.  I do plan on one day doing her costume and getting over my self imposed anxieties on that costume, though.  Odd….those gorgeous Sakizou creations with their laces, trims and details inspire me, but the thought of Bayonetta's detailed outfit intimidates me.  Must be the thought of using those different types of stretch fabrics.
CF. Do you know a lot about the series you cosplay?
Definitely!  I cosplay characters from series I love, and who have personalities that resonate with me.  I tend to fangirl a bit TOO much when I talk about the series I'm cosplaying from, and if that ever happens, just throw some chocolate in the air and run while I'm distracted.
CF. What's your favorite comic con to attend and what makes it so special?
Austin Comic Con was my first comic convention, which made it so special to me.  I usually do primarily anime cons, but I loved the feeling of the community at comic conventions, plus there are so many inspiring and iconic women in comics I'm just yearning to cosplay from.  Grace from Soulfire, Poison Ivy from the Batman series, even another version of Scarlet Witch (I've already done her bodysuit outfit and an original interpretation of her belly dancer costume)
CF. What comic con's are definitely attending this year? 
Honestly~as many as I can! There are quite a few in the Houston area, and some of my close cosplay friends are encouraging me to join them on their trips to conventions. Plus, I can rebuild my comic related collection back up!  (Some things were lost, stolen and sadly sold off when Life hit a bit too hard).  Operation Rebuild Nerd Collection is a Go!
CF. What's one thing you wish fans wouldn't do? 
I sincerly can't think of anything! I love watching fans express their love of a series, whether it be through cosplay, fan art, fan fiction or even expressing excitement about meeting the creators/actors/artists/writers of the series.  All those actions are expressions of respect and artistry, and it always makes me excited to go to conventions and meeting others.
CF. Who was your favorite character to portray and what rocked about it?
I loved my belly dancing version of Scarlet Witch!  I loved Kurt Busiek's run on Avengers~Wanda was happy, healthy and trying her best to make her place in the team.  George Perez drew her so beautifully, and her belly dancing costume was very unique, but very well designed to her character, background a personality.  I took great pains to create an updated look that would be true to her character, and took great pains to get my body into Avengers shape.  I loved wearing that costume at the convention, meeting other Wanda fans and just talking about all the ups and downs of that she's been through.
CF. How do you keep cosplay fun?
I always pick characters I love, and outfits that challenge me.  I love the concept of debuting a new cosplay and meeting like minded fans of that series or character.  By picking a design that challenges me, I get to try new techniques and perfect old ones.  It allows my to look back on my creations and see how my experience and techniques have grown!
CF. Where can new fans go to follow you? 
CF. Other than this interview, what's the craziest thing you agreed to do?
Recently I did a photoshoot at a popular boardwalk/theme park in Kemah!  (I was dressed up as my NoFlutter version of Sailor Venus)  It was a lot of fun, and a bit challenging for myself and my talented photographer friend~we were trying to get the lit up rides in the background, but kept getting stopped by people wanting pictures. Surprisingly, the boardwalk/theme park owners were okay with us being there, even if I was in costume, and I'm sure the attendants thought I was a Theme Character (although I was so excited when boardwalk/theme park employees would tell me "Awesome Cosplay!")
CF. In your opinion what's the meaning of life? 
The number 42!  (It was too easy to make a "Hitchhikers Guide to the Galaxy" reference, I am a Nerd after all).  Live, love and spread joy.  Don't stand on metaphorical platforms and look down on people, etc, etc.  Xoxo and thank you for taking the time to read this Cosplay Girl's interview.
'Photography Credit to: Angelwings https://www.facebook.com/FallingFeathers.net