Truly A Fan of 2015 Phoenix Fan Fest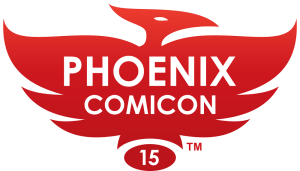 Who can argue about a comic con in December?  Well, most of the Midwest and east coast could, but thankfully Fan Fest is held in sunny Phoenix AZ.   This years Fan Fest lived up to all we expected since we were given sneak peek at the first ever Phoenix Comicon media day.
The cosplayers came out and represented well since there was no need to worry about 100 degree plus heat, over priced parking, or ultra crowded convention floor.   From the moment we stepped into the University of Phoenix Stadium we were greeted by friendly security, staff, and volunteers who made registration a breeze.
The celebrity guest list was short but that is to be expected around the holiday's.  Most celebrities, if not working, are enjoying this one moment of the year to get some r&r.  So we give a big ups to the celeb's  (Sean Maher, Karen Gillan, Julian Richings, Gareth David-Lloyd, Alaina Huffman, Dirk Benedict, Denise Crosby, Alan Oppenheimer, Tom Cook, and Tom Lenk) who took the time to come out to say hi to the fans.
Fan Fest also offered a FREE bouncing play area for those little side kicks, light saber show, knight show, Assassin Creed role play, Star Wars BB8 droid obstacle course, Marvel vs. DC panel and much more.  There were several cosplay organizations who brought the heat so shouts out to Hero's United, Arizona Avengers, and Arizona Transformers.
If you missed this year's Fan Fest be sure to make time in your holiday schedule for next years.  Fan Fest is a great convention to spend a warm December weekend (rubbing it in) just mingling with fellow geeks.  It's also an awesome place to pick up those last minute gifts for loved ones or a little something for the geek in you.
Here's a few amazing pictures from the 2015 Phoenix Fan Fest: